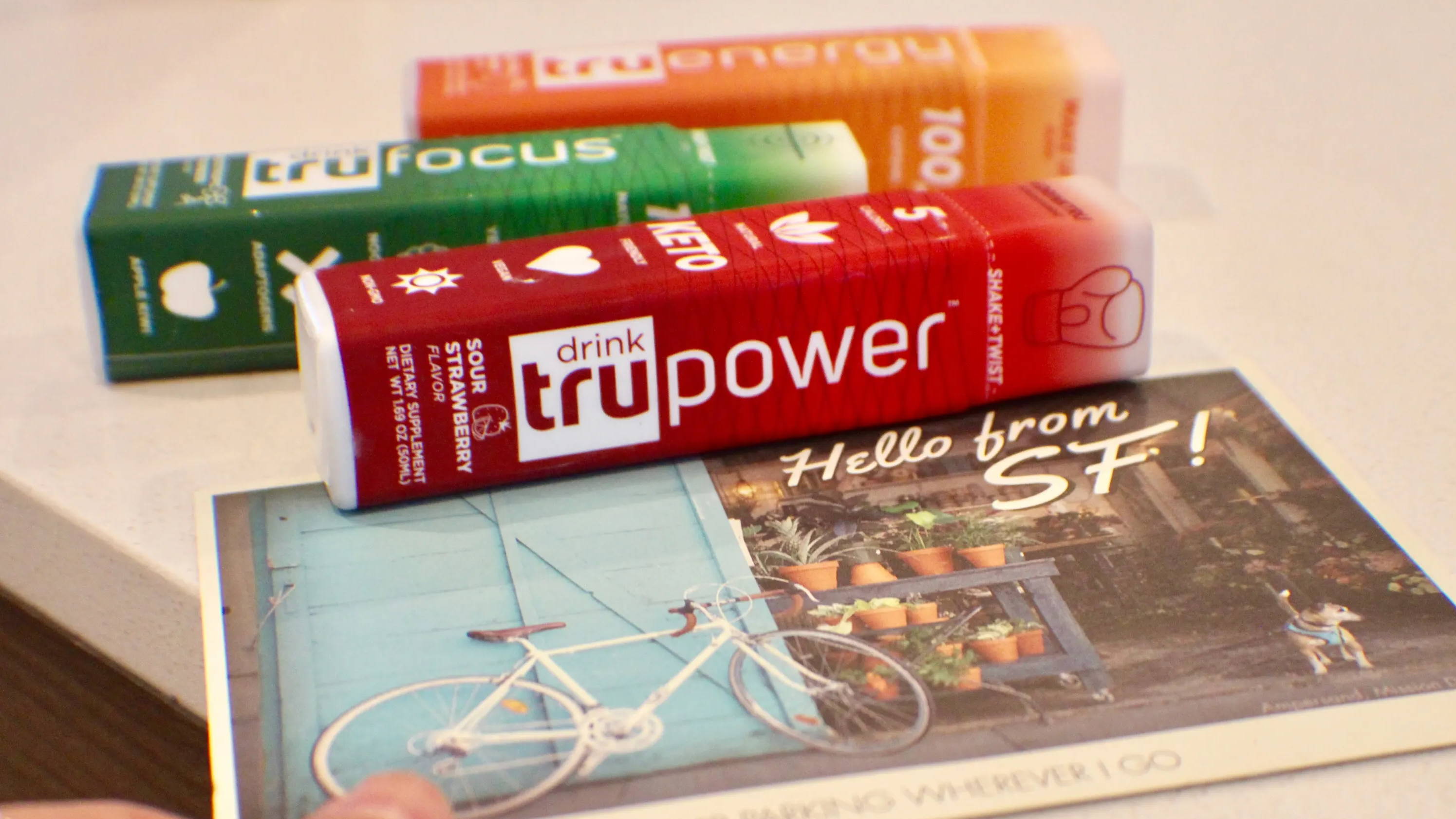 Simply put, Tru drinks are natural beverages geared towards delivering efficiency to your day from the weight room to the board room and much in between, driving high performance all along the way.
what quantities is tru available in?
Tru cans can be found in 4 packs, 12 packs, and 24 packs. Tru shots are available in 4 packs, 12 packs, 24 packs, 48 packs, and 72 packs. Both cans and shots can additionally can be found as singles as well.
CEO and founder Jack McNamara officially launched Tru in 2015. After retiring from Professional hockey, Jack saw a solution to the problem of unhealthy, side-effect riddled energy drinks. With the launch of Tru, the mission was and still is to give people the option of lifestyle drinks that suit their diet and health-conscious lifestyle.
how many calories are in tru drinks?
There are 5 calories in all of our Tru shots, and 10 calories in each of our Tru cans.
how much sugar is in tru drinks?
The sugar content within Tru shots and cans range from 1-3 grams, all of which are derived from all-natural sweeteners.
how are tru drinks sweetened?
All of our beverages are naturally sweetened with Monk Fruit, Stevia, and Erythritol. Each individual Tru drink is then given its own flavor with one or two natural juices. There is no other added sweetener, flavor, or color.
are tru drinks low in carbs?
All of our Tru shots contain 1-2 grams of carbohydrates, while all of the Tru cans contain 11 grams or less.
are tru drinks gluten-free?
Yes, all Tru beverages are gluten-free.
With the exception of Tru Beauty which contains Bovine Collagen, all of our beverages are vegan. All Tru drinks are Keto and gluten-free, including Tru Beauty.
are tru drinks available outside of the usa?
Tru drinks are available by shipment in Canada but we have not yet finalized our distribution process to other countries.
what are the benefits of purchasing the package protection?
We've partnered with Route—a package protection and tracking solution—to give our customers the best possible delivery experience. Route provides low-cost shipping protection to protect your package in the event that it gets lost, stolen, or damaged while in transit.