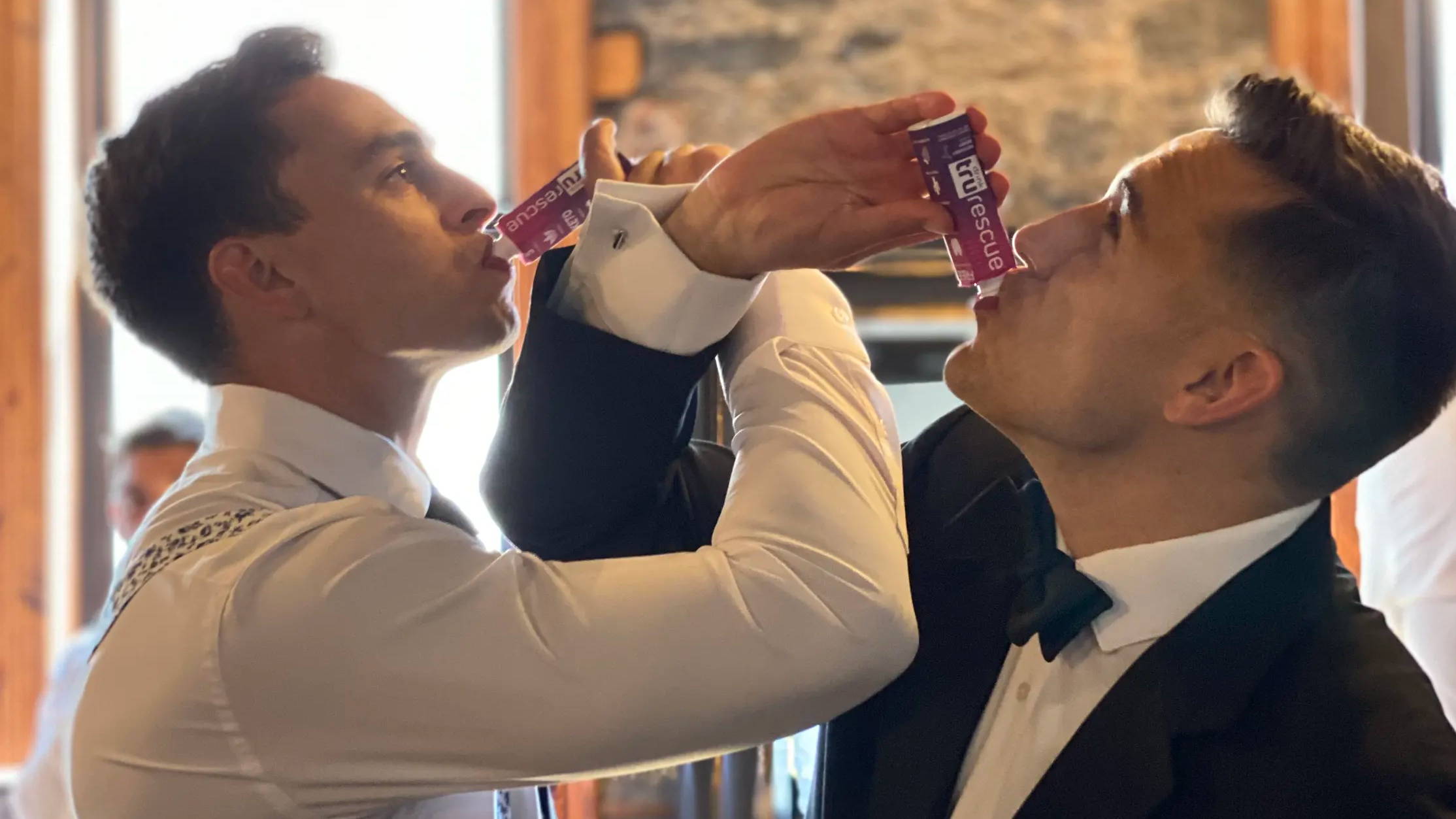 What does Tru Rescue taste like?
Like all of our beverages, Tru Rescue is naturally sweetened with Monk Fruit, Stevia, and Erythritol. Our Tru Rescue cans are amplified with a subtle combination of blackberry and lime, whereas our shots deliver a flavor burst of pomegranate. Both sets of flavors pair well with most spirits to make for the perfect cocktail.
what is in the proprietary formula of our tru rescue drink?
DHM as Hovenia Dulcis Powder Extract, N-Acetyl L-Cysteine, L-Glutathione Reduced, Prickly Pear Extract, Lemon Balm Extract, Filtered Water, Blackberry Juice Concentrate, Citric Acid, Stevia Leaf Extract, Monk Fruit Extract. Natural sweeteners consists of Stevia Leaf Extract, Monk Fruit Extract, and Erythritol.
when should i drink tru rescue?
Shake the bottle, twist off the cap, and drink one (1) full bottle when you booze to do something (anything) tomorrow. We suggest that you drink Tru Rescue shot 30 minutes before you start consuming alcohol or mix it into your favorite spirit of choice. It is ok to take your Tru Rescue before bed as a last resort; however, you will not experience the same benefits if you consume it the morning after a night out of drinking. You can drink the shot by itself or pour it into some water for a delicious drink that you can sip on. Best served chilled.
how does our tru rescue drink work?
Tru Rescue contains ingredients such as DHM and prickly pear that help to efficiently break down alcohol within the liver. When you drink more alcohol than your body can efficiently metabolize, toxins start to form in the body causing side effects such as headache, inflammation, and anxiety. By providing support in the breakdown of these toxins in the liver, the Tru Rescue blend helps to combat the debilitating symptoms of a hangover so that you wake up ready to be your best.
how much tru rescue should i drink?
We suggest that you drink one Tru Rescue drink immediately prior to consuming your first alcoholic beverage or mix it into your first spirit of choice. As everyone's tolerance to the side effects of alcohol is different, you may want to consume more than one Tru Rescue drink throughout the night if needed. In addition, there is a direct relationship between how much alcohol you drink and how much Tru Rescue you should consume to fully experience the benefits that it has to offer, thus if you are planning a long night of alcohol filled activities, you should consider potentially drinking more than one Tru Rescue drink.
how much prickly pear extract is in our tru rescue drink?
Unlike many other hangover detox products, our champion ingredient is Prickly Pear extract as it has proven effective as a hangover remedy in numerous third party studies. The greatest value of our proprietary detox formula in Tru Rescue drink is the optimal ratio of ingredients which leads to both efficacy as well as great taste. Unfortunately, we cannot share this information in order to protect our trade secrets as a result of years of research and development.
is there caffeine in our tru rescue drink?
As everyone's tolerance for caffeine is different, we decided to avoid the use of caffeine in Tru Rescue drink. Our team wanted to create a hangover detox product that was fitting for anyone 21 or over (not just the caffeine consumers). If you are looking for an additional boost before a night out, we recommend pairing Tru Rescue drink with Tru Energy drink for a nice wake up boost.
Are there artificial preservatives or colors in our Tru Rescue drink?
There are no artificial preservatives or colors in any of our beverages. Over the past few years, we have found a way to manufacture our beverages without the use of preservatives while improving overall taste as we are firm believers that natural is the best route to staying healthy.
are there artificial flavors or sweeteners in our tru rescue drink?
There are no artificial flavors or sweeteners in Tru Rescue due to the side effects that are associated with these ingredients. Each formula utilizes a sweetener system of monk fruit, stevia, and erythritol as they are all natural sweeteners with a low glycemic index. We also utilize natural juice to help flavor each drink.
Are there any allergens in tru rescue?
Tru Beauty does not include gluten, soy, lactose, nuts, or artificial ingredients. Tru Beauty is not considered vegan, though, as it does contain bovine collagen.
is our tru rescue drink keto friendly?
Yes, all of our drinks are Keto friendly. We understand that different people have their own diets and eating habits. Catering to diets and healthy ways of living is very important to us!
is our tru rescue drink vegan?
With the exception of our Tru Beauty drink which utilizes bovine collagen, all of our other drinks are vegan friendly. Additionally each drink is low in calories, sugars and carbohydrates which also makes it Keto friendly. As we understand that all people have their own diets and eating habits, we do our best to cater to the masses with natural alternatives to promote a healthier lifestyle for many.
Is our tru rescue drink gluten free?
Yes, all of our drinks are gluten free. We understand that many people have a strict diet or may enjoy specific eating preferences. Catering to these requests is extremely important to us so that everyone can find a drink that fits their needs.
is our tru rescue drink fda approved?
The FDA does not approve any supplements, but we do have certificates of analysis on all of our individual ingredients. Our products are also manufactured in an FDA registered & GMP certified facility and the final product is then tested by a third party lab. Please feel free to reach out to info@drinktru.com for any more specific questions or ask our chat bot in the bottom right hand corner of our website!
is it safe to drink tru rescue drink while pregnant or breastfeeding?
We urge anyone who is pregnant or breastfeeding avoid the use of the Tru Rescue drink as we do not promote drinking alcohol under these circumstances. In addition, we suggest that anyone who is pregnant or breastfeeding consult a physician before taking any dietary supplements (not just Tru).
can i take tru rescue drink while on medication?
We suggest that anyone taking medication consult a physician before taking any dietary supplements (not just Tru). Most of our ingredients are natural with extensive research to prove their overall effectiveness; however, it is important that you consult your personal health expert so that you feel comfortable taking any of our products.
can i drink tru rescue drink if i have dietary restrictions?
Although our team has extensively researched each ingredient in the Tru Rescue drink while avoiding the use of artificial flavors, colors, and preservatives, we suggest that anyone with concerns consult a physician before consuming any and all dietary supplements.
who should drink tru rescue?
Although there is no alcohol in Tru Rescue, we urge you to obey the alcohol consumption laws which your state or country abides by. That being said, anyone who drinks alcohol and wants to feel better the next day should drink Tru Rescue. Tru Rescue is jam packed with ingredients that reverse the body's reaction to alcohol. Both the can and the shot are geared towards relieving the side effects that cause hangovers.
what is the shelf life of our tru rescue drink?
The shelf life of the Tru Rescue shots is 18 months. The shelf life of Tru Rescue cans is 12 months. This differentiation is due to the variation in processing and packaging methods for each. For best quality, please keep our drinks from any prolonged exposure to sunlight or high temperatures as it can affect flavor. As always, the expiration date is clearly marked on the bottom of each of our beverages. In addition, all of our products can be stored in the refrigerator or at room temperature as they are shelf stable.
Can i travel with a tru rescue drink?
Yes, our shots meet the requirement for air travel. You can feel comfortable sharing the milliliters and the fact that it is a supplement with security. All of this information is clearly printed on the packaging.
Is it ok to drink Tru rescue and drive?
While our Tru Rescue shot alone will not impede your ability to drive a car or properly operate powered machinery, people typically drink the Tru Rescue shot in an effort to flush alcohol out of their system faster. In this regard, drinking a Tru Rescue does not make it OK to drive or operate powered machinery as you can still be drunk even after drinking a Tru Rescue.
does tru rescue need to be refrigerated?
Although many Tru customers prefer to refrigerate our drinks and serve them chilled, it is not a necessity and you may store all of our flavors at room temperature. It is totally customer preference when it comes to consumption or storage as our drinks are completely shelf stable. They also act as great mixers! In addition, at the bottom of each drink is clearly marked an expiration date .
Does Tru Rescue have different effects on different people?
We suggest that everyone consult their physician for guidance on taking any supplements (not just Tru). All supplements have different effects on different people just as alcohol does. To achieve the maximum benefits drink Tru Rescue directly before your first alcoholic beverage.